Waterline Tile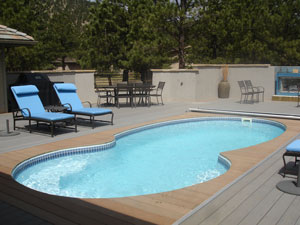 Most commonly, pool tile is used for a waterline, which embellishes your pool appearance and helps make that inevitable "bathtub ring" from suntan lotions and oils less noticeable. You can also use pool tile to outline your stairs for safety reasons, or embroider a seating area.
A standard waterline tile is six inches in length and circumferences your pool. Your water level normally stops in the middle of this tile. You can choose any tile that is specified for swimming pools. It must be 3" X 3" or smaller to fit around the curves of a fiberglass pool.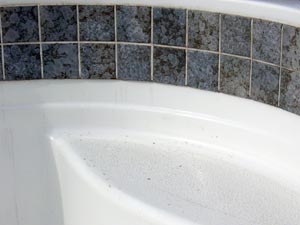 Tile cost has a wide variance- glass tiles being more expensive than ceramic and typically the smaller the tile, the higher the cost, as it is more labor intensive to install. We use a special grout that is formulated for fiberglass pools, giving the tile the ability to flex. It also has a built in algaecide for easy maintenance.
To the left are some tile samples. To see more, please visit www.nptgonline.com and call for a quote.