Included Equipment
San Juan Pools of Colorado includes the basic equipment set- pump, filter and heater, with your pool or spa purchase.
Pentair Pool Equipment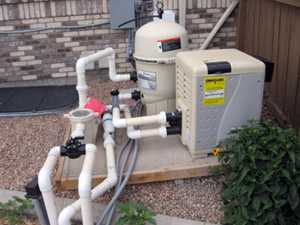 Here at San Juan Pools of Colorado we do all our plumbing in 2", Schedule 20 PVC pipe. We put unions on all the equipment for ease of maintenance and directional valves are also included.
This photo shows a chlorine generator turbo cell with a zinc anode (an optional upgrade). There is a panel on the wall for the controller to convert the pool into a salt pool.
WhisperFlo® High Performance Pumps
WhisperFlo® delivers maximum circulation eficiency at the lowest operating cost and long, trouble-free life with minimal maintenance. Pentairs hydraulic design has been refined over 40 years for superior performance.
Features:
WhisperFlo costs less to operate, because it uses less horsepower to produce required water flow.
Oversized strainer basket extends time between cleanings.
See-through lid makes inspection fast and easy - engineered polymer remains clear and strong for years.
User-friendly Cam and Pump™ lid is easy to remove and quickly locks in place with a quarter-turn.
Clean & Clear® Plus Cartridge Filter - Pools Only
Clean & Clear® Plus Filters have a corrosion resistant injection molded filter tank featuring superior strength and reliability. The cartridge assembly uses four easy to clean, non-woven, polyester cartridges. Each filter is supplied with a bulkhead union set for easy installation.
Features:
Four-cartridge design traps more dirt and extends time between cleanings.
Cartridges are easy to remove and rinse.
Clamp ring allows easy access to cartridges and internal parts to speed service routines.
1½" drain is easy to access and located to ensure complete draining during winterization
Fiberglass-reinforced polypropylene tank is strong and corrosion resistant for extra long life.
MasterTemp® High Performance Heater
MasterTemp® Heaters offer all the efficiency, convenience and reliability features you want in a pool heater, plus a lot more. As easy to use as your home heating system, plus, user-friendly indicator lights make system operation and monitoring a snap. The compact design and super quiet operation won't intrude on your poolside leisure time.
Features:
Heats up fast so no long waits before enjoying your pool or spa.
Best-in-class energy efficiency.
Manual gas shut-off when service is required.
Eco-friendly MasterTemp® is certified for low NOx emission and outperforms industry standards.
Rotating digital display allows for easy viewing.
Tough, rustproof exterior handles the heat and weathers the elements.
Clean & Clear® Cartridge Filter - Spas Only
The Clean & Clear® cartridge filter combines top-end filter performance with low maintenance. This dependable design uses special filter elements to strip tiny particles from your pool water - particles as small as 30 microns. (An average grain of beach sand is 1,000 microns!) And cleaning is a breeze. Open the top, remove the cartridge, hose it off, and Clean & Clear is ready to go again.
Features:
Cartridge is easy to remove and rinse.
Clamp ring allows safe and easy access to cartridge and internal parts.
Single piece base and tank are constructed of fiberglass-reinforced polypropylene for strength and chemical resistance.
High-flow manual air relief valve and continuous internal air relief work together to maintain optimum filtration efficiency at all times.
Amerlite® Underwater Lights
Amerlite® incandescent lights have been the world standard of reliability for underwater pool and spa lighting for decades. In fact, tonight they will light more than 3 million pools around the world.
Features:
8 ⅛" prismatic tempered glass lenses for optimum light diffusion.
Heat-sensing water cutoff for low water protection.
Stainless steel shell and face ring are durable and highly corrosion resistant.
Easy to service, all Pentair lights allow bulb changes without lowering your water level.
We use top of the line equipment- Pentair Whisperflo pumps, Pentair Clean and Clear cartridge filters, and Pentair or RayPak heaters. This equipment will be sized according to the pool you choose to assure maximum efficiency. San Juan Pools of Colorado retains the right to substitute with another piece of comparable quality, if one of the above is unavailable at the time of installation. We will also accommodate most requests for substitutions if desired.
THREE YEAR EXTENDED WARRANTY ON EQUPMENT!